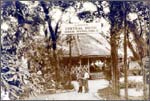 Almost a hundred years ago the Lords started calling Matheran their home. The following excerpt from a book now almost 80 years old tells us a little about their early history.
"Lords Central is on Victoria or the main road. The Lords Central has incorporated two or three well-known bungalows such as David Cottage and Jacob Lodge and Khorshed Lodge. Lords Stores next to these is the only real café you can find where dances are held and is otherwise the 'rendezvous of the elite' as Bombay hoteliers like to describe their places.
Young Naval Lord was responsible for introducing dancing into any Matheran establishment, by holding hotel dances and also installing a loudspeaker system to provide their patrons with gramophone music. Naval Lord was the eldest of the 3 sons of Hormusji Lord. Hormusji opened a small shop on the same spot where the stores still is. He did so well that he was later able to open a hotel. He and his sons were always ready to rush to anyone's help and furthermore, Naval had the gift of the gab that made him the most popular of the three. Cowas is his son.
Out of the other two brothers Framrose who had branched out on his own with the present Lords Hotel is dead but Shiavax happily is still there running the Lords Central Hotel. He was a professional photographer at first, one of the best on the hill, but is fairing far better now in the family calling where he so well deserves to be."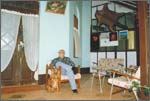 Shiavax had 3 sons. After his death in xxx, his eldest son Jamshed or Jimmy as he came to be known, took up the mantle and kept the tradition going. Remembered by thousands of guests over the years as a jovial and superb host, raconteur of repute and a lover of Matheran and her environment. Jimmy Baba as the local people fondly called him married Zenobia in 1960, who beget him one daughter and 3 sons. Zenobia over the years became the ideal hostess utterly at home dealing with 30 guests or 300. Her pleasant manner and charming outlook totally complimented Jimmy's outgoing and friendly demeanor. Together they formed the ideal team to look after the different guests that patronised the hotel.
After Jimmy's tragic death in a road accident on the way to Matheran, his son Shiavax (named after his grandfather) now runs the place along with his mother Zenobia. Constant additions to the facilities and amenities have made the hotel today the first choice of the discerning traveller.
Unlike the other hotels in Matheran that have changed owners many times and cater to the nouveau-riche of Mumbai, Lords Central still preserves its genteel charm. The ambience and atmosphere still delightfully exudes an old-world charm. Not for Lords the noisy atmosphere of a spoilt tourist resorts.